Welcome to our brand new website!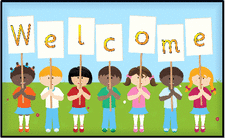 Welcome to Newport C of E Primary School
Newport C. of E. (VA) Primary School is a friendly school set in a quiet and attractive environment. Children start at our school when they are four years old, moving to secondary school at eleven.
World Book Day
Make sure you have a look at our School Events - World Book Day page to see all the exciting things we have been up to!
Calling all Reception Parents
Can you spare 5 minutes to complete the Booktime parent survey?
As a thank you for taking part you will be able to enter our prize draw to win £50 of high street vouchers.
Did you hear us on the radio?
Thursday 20th February Isle of Wight Radio's Breakfast Show
It was lovely to hear Year 6's Jacob celebrating his achievement of becoming Red House Captain on the radio yesterday! Well done to all the newly appointed house captains!
Tuesday 28th January's Julian Clegg Show from BBC Solent
Click on the link above to hear Mr Seaward, Jack and Alanah on Julian Clegg's show on BBC Solent.
(skip forwards to 2 hours, 6 minutes into the show)
Latest School Calendar Events
Read For My School

27

Jan

2014

@ Newport CE Primary School

This term our school will be taking part in a national reading competition called Read For My School, it is open to children in years 3-6. The competition website www.readformyschool.co.uk is hosting a free online library of over 100 books. If they participate then your child will be able to read those books online wherever they have internet access. They can of course choose to read books in print as the goal is simply to read as many books as possible. There are prize draws to enter for schools that read over 250 books and individual children who manage to read 8 books or more.

Parents consultation evening

25

Mar

2014

03:30 PM - 05:45 PM @ Newport CE Primary School

These evenings will be preceded by a written report on each child, which you will receive the week before in order to inform parents and give greater focus to the consultation meetings.

Parents consultation evening

27

Mar

2014

03:30 PM - 05:45 PM @ Newport CE Primary School

These evenings will be preceded by a written report on each child, which you will receive the week before in order to inform parents and give greater focus to the consultation meetings.

Parents consultation evening

02

Apr

2014

04:00 PM - 06:30 PM @ Newport CE Primary School

These evenings will be preceded by a written report on each child, which you will receive the week before in order to inform parents and give greater focus to the consultation meetings. You will be receiving a letter to enable you to book your consultation appointment shortly.

Easter Holidays

05

Apr

2014

Easter Holiday
Calendars page(s):
School Calendar >>
Newport Church Of England Aided Primary School News
News Page »